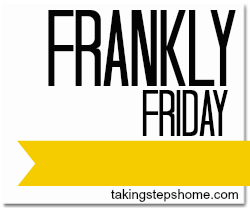 I'm linking up with Amy again! This week's version of Frankly Friday is just going to be a few annoying things I am experiencing at the moment!
Frankly, this has been one of the longest work weeks. Ever. I still have 4 days left...wow. Will flu season ever end?!
Frankly, I have gained about 10 pounds since I had the flu in December. I still don't feel like I've fully recovered. I feel sluggish all the time. I've worked out very few times this year AND I am hungry ALL of the time. It's like I'm a bottomless pit that will never fill up!
Frankly, I am ready for spring to get here! These short days and cold nights have started to irritate me. It was nice at first, now it's annoying.
Frankly, I need a vacation.
Frankly, I am

this

close to deleting my facebook. People are really getting on my nerves.
Wow, this was an uplifting post, huh?! Haha. Happy weekend, everyone!