I'm linking up with the lovely
Amy
, for another....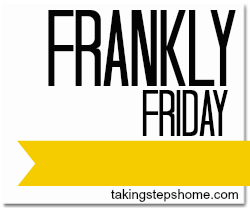 What is Frankly Friday?
Let's define Frankly shall we...
frankly
|ˈfra

ng

klē|
adverb
in an open, honest, and direct manner
I want this to be a way for all of us to be open, raw, and transparent with not only each other...but with ourselves. I think we put a lot of stock into the "fear" of what others may think of us...into the "fear" of really putting what's on your heart out there in case someone decides to tear you down.
I'm over the fear & you should be too.
So let's write...whether it's about a situation you're struggling through, a victory you've made, a memory that you can't let go of...anything as long as it's honest.
...................................
It's time for another Frankly Friday post! I've been wanting to do another one for a while, but have just never sat down to actually think about what to write. Well, this week I am going to write about how
frankly
frustrated I am with the generation I live in. I will call today's post FFF: Frankly Frustrated Friday.
I've mentioned many a time that I feel like I was born in the wrong time period. While there are certainly things I do enjoy about 2013 such as technology and advancements in travel, etc...I still feel like I do not belong. This whole "YOLO" movement? Yeah...SO not me. While the statement "You only live once" is indeed a fact, I am not going to throw on my tiny glittery dress, hit up the club, have countless drinks, and make out with random guys, to prove that I'm satisfied with my life.
I'm aware that that this stereotype doesn't sum up the entire group of young women in our generation, but I feel like it is the "norm". You are considered socially awkward if you aren't comfortable in a party setting...I'm the girl that would rather be at home reading a book with a cup of coffee than out drinking with a bunch of people, and a lot of people want me to believe that's wrong. Well, I refuse!
After watching Pride and Prejudice (the lovely version starring Colin Firth...hello Mr. Darcy...) I realized that perhaps I should have lived in that time. They seemed to have the same standards that I have, maybe even more! You were considered a disgrace if you flaunted yourself or acted unladylike at all. But now, it's the complete opposite. Is there even a such thing as a lady anymore?
And it doesn't really help that in the last several years, the celebrities that young women look up to went from this:
and this
to this
and this
It seems as the years have gone by, it's just gotten worse and worse. I agree that women should have equal rights as men, but it seems that women have lost the elegance and class of being LADIES and now we are consumed with being equal to men in each and every way. I for one
WANT
to be a lady. I want to be delicate, classy, and stylish. I truly hope that one day this conceited, careless woman of today goes out of style and that being a classy and thoughtful woman will be considered a good thing once again. But it's looking doubtful...