Tis time for another Frankly Friday with Amy! Today, I'm going to share an awkward moment.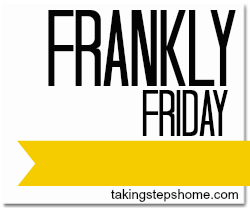 Have you ever heard of Josh Sundquist? Well, he is one of my favorite people ever. He is a motivational speaker, successful youtuber, who lost his leg to cancer as a kid. Watch this video:
Well, okay...his reasoning totally makes sense. Now, let me share MY story with you. There was this guy...I had known him for a couple of years. He went to my church, we were friends. Or acquaintances ..At the time, I would have said friends, but we really didn't know each other...that's another story for another time. Anyways. He went to college a few hours away and only came home like every other weekend. This particular time, he was home for summer break. We were chatting, and he is talking about how bored he is. He says, "When I was at school, I was so busy all the time! But now that I'm home, I don't really know what to do. I go to the gym and then I come home...that's my day." So he is complaining about being bored, and the light bulb goes off in my head. DING DING DING! So, I say, "Well, since you have so much free time...we should hang out sometime!" He responds with the look of a deer caught in headlights. This is what he says, "Well, it's like I have all this free time...but I'm still REALLY busy." BAM! And that's the end. I'm not sure how the conversation ended. If I was like..."Oh. Okay. See ya." But since that moment, he has LITERALLY avoided me. I mean, not even looking in my general direction AND not making any eye contact whatsoever. I guess he is afraid I'll try to hang out with him! Hah. It was rejection, but I laugh about it now. He really should have thought of a better excuse than having so much free time but being really busy? Does that even make sense?! I guess I should respect him for trying not to hurt my feelings and being like "Heck no!" But it was a pretty sorry excuse...considering 45 seconds ago, he was complaining of boredom. Moral of the story, if someone complains about being bored, it might NOT be an invite to hang out. Also, don't complain about being bored if you don't want to hang out with the person you're complaining to. The end.