Today I am linking up with one of my lovely blogger friends,
Amy
, for Frankly Friday.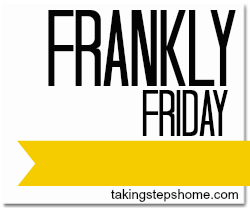 What is Frankly Friday? Well, here is the description from her blog:
Let's define Frankly shall we...
frankly |ˈfra ng klē|
adverb
in an open, honest, and direct manner
. . .
I want this to be a way for all of us to be open, raw, and transparent with not only each other...but with ourselves. I think we put a lot of stock into the "fear" of what others may think of us...into the "fear" of really putting what's on your heart out there in case someone decides to tear you down.
I'm over the fear & you should be too.
So let's write...whether it's about a situation you're struggling through, a victory you've made, a memory that you can't let go of...anything as long as it's honest.
. . .
Today I am going to share something that is VERY, very personal. If you don't want to read this post, I will not be offended. Someone once said to me, referring to my faith, "The only reason you still believe in God is because you've never been through anything." This scarred me. I had to bite my tongue so hard, it's a surprise I didn't bite clean through. I responded with a brisk "You don't know what I've been through." And walked away. It's never alright to judge someone on their past experiences that you know nothing about.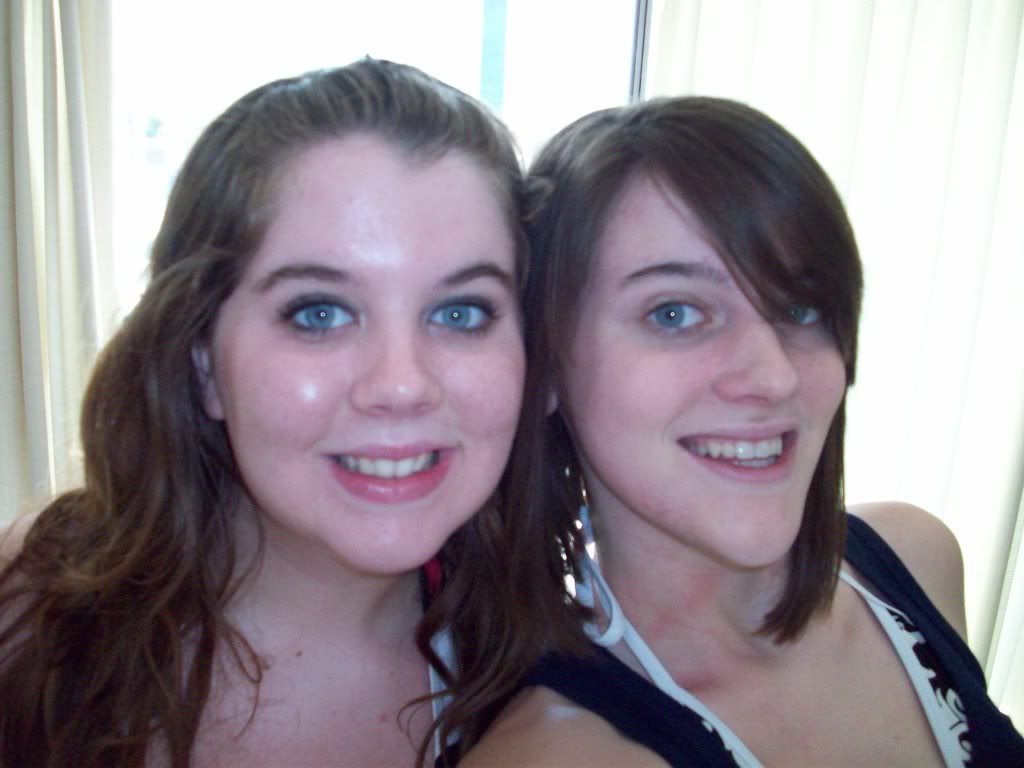 This is my sister and I from the summer of 2008. We were on vacation where this story begins.
I've been through quite a few traumatic experiences with my parent's health. My dad was diagnosed with Alzheimers when he was only 52 years old. His doctors started him on Prednisone in 2008, which led to the absolute worst year of my life. I was only 16 years old. He became this scary, over the top religious man. On a family trip to the beach, he bought a gun. He later said he only bought the gun to see if a man with Alzheimers disease could buy one. And obviously, he could buy it. There had been a few smaller instances when he seemed different, but that was the first obvious change. My dad was always a very quiet man, never had any use for weapons of ANY sort. We never even talked about them.
Once we got home from vacation, he said he was going to kill the mayor of our town. He actually went to a local radio station, asking them to broadcast it. They thought he was kidding, and just played it off. I was scared...these people weren't taking him seriously. They didn't know his mental state, and my family was horrified.
One night while I was getting a bath, my sister comes running into the bathroom, panicking. She locked the door behind her. My dad is chasing her, and he has so much strength that he breaks the door handle. My mom must have talked him down because he never entered the bathroom. I honestly remember very little from this night. But that same night, he threatened to shoot each of us, my mom, my sister, and myself. He said God had revealed to him that we were demons. After that, my sister and I packed a suitcase with only clothes for the next day and we ran away to a friend's house. I was terrified that night. We had left our mother alone with our father, who had threatened to kill us all. It took forever for me to fall asleep, and I am sure that when I did, it was from pure stress and exhaustion.
We found out the next day that my mother had called his neurologist and SOMEHOW, his doctor managed to get him to come to her office that day. He was later admitted to the hospital. There, he got in a fight with his nurse and had security called on him. After fighting security, we were forced to go to court. I saw my father in handcuffs. I had always been a "Daddy's girl". This was the most difficult thing I had ever been through. He was transferred to a psych ward at a hospital about 80 miles from our home. When we visited him, I remember being so scared. Only two of us could be with him at a time. This was my dad! The man that I tried so desperatly to impress, to make proud. I can still feel my heavy heart just thinking about it. I have tears while typing, and it's been almost 5 years.
During this horrible experience, my mother's health took a huge turn for the worse. The stress proved to be too much for her body and she starting being sick all the time. She was diagnosed with Lupus, Fibromyalgia, and a rare disease known as Myasthenia Gravis. They found out the medicine was what was making my father crazy, so they took him off of it and he became pretty lethargic, spending basically all day in the bed.

Years have passed and both of my parents' health has declined greatly. Neither of them hardly ever leave the house. Our family hasn't been out to dinner in months. I haven't seen both of my parents in clothes aside from pajamas since Thanksgiving, as my dad was too sick on Christmas. My dad wasn't able to go to my college graduation. It's been extremely difficult on my sister and me emotionally.
Wow, that was quite a ramble. Anyways, if most people knew this story, they would most likely say "How do you still have faith in God?" To be completely honest, in 2008, I feel that I lost a lot of it. I remember praying and feeling like I could not have been more alone. But I know that if God had not been there, we would not have all made it out. When my dad realized all that he had done, he apologized to us, and he cried. I have RARELY seen my father cry, as he came from a family that shows VERY little emotion. I am not going to lie, it was extremely hard to forgive him. I was angry at him for a long time...I held him responsible for my mom's deteriorating health. But I knew that it wasn't his fault. This man he became was not my daddy. We have a good relationship now, and we never mention that year...ever.
My faith in God is now stronger than ever. Honestly, I don't know where I would be if I had lost my faith. I know that God pulled my family through that horrible year. We may not have all been unscathed...my mother and my father are both in bad health and my sister and I have these horrible memories that we may never forget. But we all made it out of it alive, and there were times I wasn't so sure that we would.
God was looking out for us. He really opened my eyes to His presence in a time that I really needed Him.
Sorry for such a long and quite depressing post. I have shared this story with very few people, and frankly it feels good to get it off of my chest.